Entry type: Organisation
Entry ID: AWE0021
Women's Electoral Lobby Australia
(From 1972 – )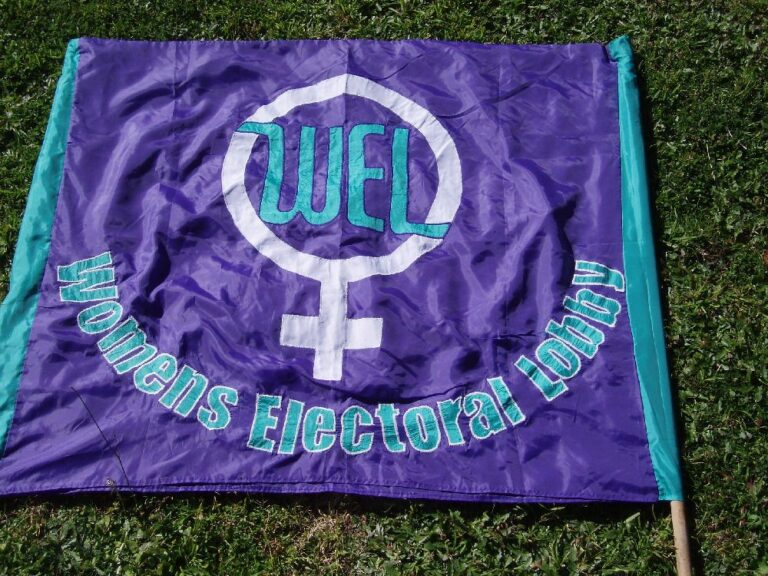 Nationality

Australian

Occupation

Lobby group
Summary
The Women's Electoral Lobby (WEL) was established in Melbourne in 1972 by Beatrice Faust. She was inspired by feminists in the United States who had been rating presidential candidates. The organisation quickly spread to Sydney, Adelaide and Canberra and in 1978 WEL Australia was formed as a coalition of state, territory and regional groups. Primarily a women's political lobby group, WEL surveyed political candidates and their policies affecting women, wrote submissions and developed media skills for women to lobby for the inclusion of women in the area of government policy. Originally the WEL campaign was based on six demands: equal pay, equal employment opportunity, equal access to education, free contraceptive services, abortion on demand and free 24-hour childcare.
Details
In February 1972, feminist Beatrice Faust invited ten women to a meeting in her Carlton house to discuss the forthcoming Federal election. They decided to survey election candidates on issues of special interest to women, as Ms Magazine had done in the USA during a recent presidential campaign.
By the second meeting the initial membership had doubled, and 130 women attended the third meeting a short time later.
Early the following year, there was a Victorian state election, and WEL organised a major forum in Dallas Brooks Hall, bringing together on stage the leaders of all five current political parties to answer the question:
Why should women vote for you?
WEL's first national conference in Canberra in 1973 was attended by 400 women.
Read
Published resources
Book
Book Section
Article
Thesis
Conference Paper
Edited Book
Resource
Report
Site Exhibition
Archival resources
The University of Melbourne Archives
National Library of Australia, Oral History and Folklore Collection
State Library of Western Australia
National Library of Australia, Ephemera Collection
State Library of New South Wales
National Library of Australia, Manuscript Collection
Northern Territory Archives Service
Mitchell and Dixson Libraries Manuscripts Collection
State Library of South Australia
National Museum Australia
Archives Office of Tasmania
Digital resources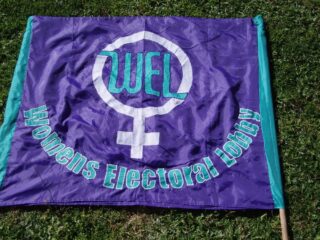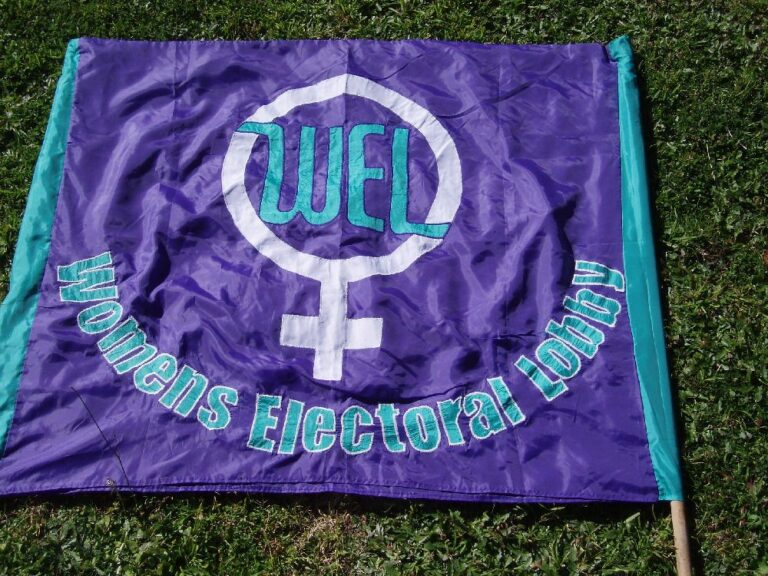 Title: WEL banner made by WEL-ACT member Julie McCarron-Benson
Type: Image
Description: OLYMPUS DIGITAL CAMERA
Date: 3 May, 2023
Related entries
Related Women

Membership

Foundation member

Founder

Employee

Member

Director/s

Related Organisations

Related Events

Affiliated

Foundation Member